A unique experience in Auckland: we'll ride out at dusk and pick the best vantage points to see the city light up as the sun sets. And don't worry about riding in the evening – we've got some amazing reflective gear for you to wear, and we'll light you up like a Christmas tree!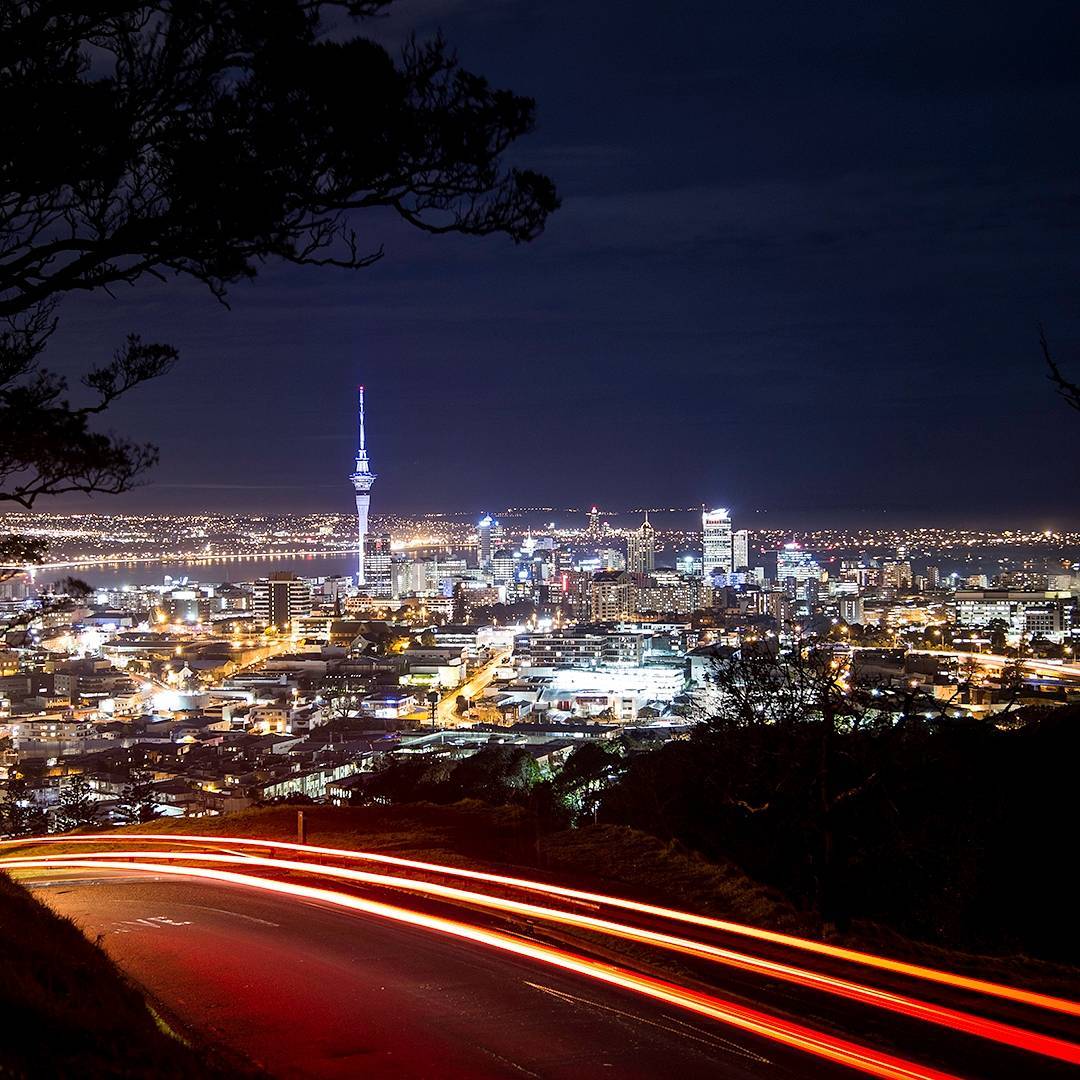 Departs: Because the sun goes down at different times during the year, we've got a range of start times for this tour! So, November – 7.30pm, start December to February – 8pm start, March – 7.15 pm start, April to September 6pm start; September to October – 7pm start, all from our base at 9 Gore Street, Auckland city centre
Duration: 1.5 hours
Distance: around 12 km (between 1 to 1.25 hours' easy riding time – all electric powered!)
Price: NZ$49 per person. Minimum age 16 years old.
Group size: A very select group, even smaller than our usual group size! Up to 4 riders, plus your friendly guide.
Book Now
The light in Auckland can be amazing in the evening and we think it's a great time to ride the streets and join our fellow Aucklanders while they unwind after work. Our electric bikes are already very visible, but for this guided tour we make sure you have some additional lighting to really stand out as you are gliding along. And we've got some amazing reflective gear for you to wear – trust us!
On this Auckland city tour with Power to the Pedal, we will lead you from our HQ and on to the Grafton Gully cycleway – a fantastic cycleway leading you up towards Mt Eden – a chance to try some of the power settings on your eBike! From there, we head for the high point (literally) of the tour – the summit of Maungawhau/Mt Eden – where you'll enjoy a 360 degree view of Auckland and its sparkling city lights. – photo opportunity anyone? Then it's back towards the city centre, via Grafton Bridge and part of Karangahape Road – home to some of Auckland's most vibrant nightlife. We'll then ride one of our amazing new cycleways – Te Ara I Whiti/Lightpath. This pristine cycleway looks stunning when it is lit up at night. [UPDATE: The Lightpath is currently closed for some more resurfacing work and is scheduled to re-open on 15 June 2017. But don't worry –  we'll still be showing you the amazing city lights from the summit of Mt Eden and we've got another couple of really cool urban light shows on the waterfront that we've added to the tour, so there will be more than enough for you to enjoy in the meantime!)]  And finally, we'll follow the cycleways back down to the waterfront, passing the City Works Depot on the way (so many great eating and drinking options for us to recommend to you!) and riding along Quay Street on our way back to base.
It's an experience that should certainly be added to the "things to see in Auckland" list!
Oh, and as well as being eye-catching, did we mention how much fun our electric bikes are? We love them! See more here.
And one last bit of guidance – whilst we always look to ride on cycleways or quiet roads where possible, riding at night can be a little more challenging than riding during the day. So if you haven't ridden for a while, you might prefer one of our daytime tours – like The Classic, The Inside Loop or The Intro.
Sights and Neighbourhoods visited include:
Grafton Gully Cycleway, Maungawhau/Mt Eden, Grafton Bridge, Karangahape Road, Te Ara I Whiti/Lightpath; City Works Depot; Quay Street
We'll meet you at our base at 9 Gore Street in the city centre, where we'll kit you out with your electric bike and your riding gear. We'll then have a short orientation with the bikes and have a practice ride nearby to make sure you are 100% comfortable before we set off. Then it's on with the tour! – which we believe is one of the most fun things to do in Auckland and a great experience.
All of our tours are led by our experienced guides who will bring the history and vibrancy of Auckland to life. Feel free to ask questions – we love to tell you about our city and explain about all the things to see and do in Auckland!
We want you to enjoy the thrill of riding your electric bike around Auckland as much as possible, but will also have several stops to discuss particular points of interest and let you take plenty photos in that beautiful evening light! The cycle tour will end back at our base.
If you've got any other questions about the tour, take a look at our FAQ page, or feel free to contact us.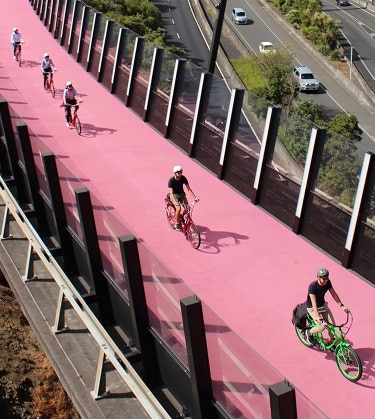 Our original and most popular city loop tour. See the best of Auckland by electric bike, without breaking a sweat!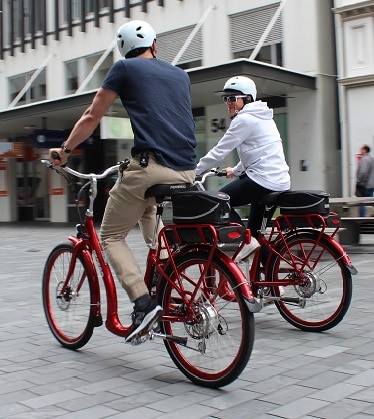 We cycle our amazing electric bikes around some of the most vibrant
neighbourhoods in Auckland and give you an insider's view.