Our original and most popular city loop tour. See the best of Auckland by electric bike, without breaking a sweat!
Departs: 9am, from our base at the Park Hyatt Auckland, 99 Halsey Street, Auckland CBD (we meet outside the entrance to The Pantry cafe at the hotel).
Duration: approx 3.5 hours.
Distance: Around 25 km (so, between 2 to 2.5 hours' easy riding time – all electric powered!).
Price: NZ$160 per person. Minimum age 14 years old (teenagers of 14-15 years old must be accompanied by an adult).
Tour size: Small groups of up to 6 riders, plus your friendly guide.
"Simple: if you're in Auckland, this is a must-do!!"
SARAH, AUSTRALIA
"The eBike adventure was really fun and the highlight of my Auckland trip!"
CATHY, NEW ZEALAND
"The Classic tour was amazing. Our family of four loved every minute of it. Make sure you do this when you are in Auckland!"
RUTH, AUSTRALIA
"We rode to the top of a volcano and had a maginificent 360-degree view of the entire Auckland area. Just beautiful. We highly recommend this tour – it was FABULOUS!!"
TRISH, USA
"The best hours you will spend in Auckland!"
ALVIN, AUSTRALIA
There are plenty of fun things to do in Auckland – a city built on and around volcanoes (now extinct!). We've got great sightseeing opportunities throughout the city, and we've got hills! Our electric bikes are the perfect way to experience a day tour around the centre of Auckland – they have the power and the range to take you on this extended loop of the city, in complete comfort.
On this guided tour with Power to the Pedal, we'll take in the iconic sights of Auckland city as well as visit some of our favourite neighbourhoods and parks. We'll take you to amazing places that are off limits to the tour buses. And getting off the regular tour routes is something you really must do in Auckland to appreciate it diversity. This tour is the perfect way to orient yourself in the city and to discover places to explore further during your visit. We want to show you a lot and don't believe in rushing things. Given how much there is to see, we wouldn't want this tour to be any shorter! We ride at a leisurely pace on the electric bikes so you can soak up the beautiful environment that makes Auckland one of the most liveable cities in the world.
As locals, our tour guides will give you an insight into what it's like to live in this amazing city. We'll take you through the past, the present and into the future of Auckland.
The majority of the ride will be on dedicated cycleways or on quiet neighbourhood roads. We are of course riding in a city, so inevitably there will be traffic on some of the roads and you will need to be confident riding a bike in that environment. You will be carefully led by your experienced guide at all times.
Oh, and did we mention how much fun our electric bikes are? We love them! See more here.
Sights and Neighbourhoods visited include:
Grafton Gully cycleway; Maungawhau/Mt Eden summit (some of the best 360 degree views of Auckland!); Auckland Domain park and Wintergardens; Auckland's Waterfront; Quay Street cycleway; Princes Wharf; Wynyard Quarter; Westhaven; up close and personal with the Auckland Harbour Bridge; Freemans Bay and Victoria Park; Nelson Street cycleway; Te Ara i Whiti/the Lightpath; plus plenty more!
We'll meet you at our base in the city centre, where we'll kit you out with your electric bike and your riding gear. We'll have a short orientation with the bikes and do a practice ride nearby to make sure you are 100% comfortable before we set off. Then it's on with the tour! – which we believe is one of the most fun things to do in Auckland and a great experience.
All of our sightseeing tours are led by experienced guides who will bring the history and vibrancy of Auckland to life. Feel free to ask questions – we love to tell you about our city and explain about all the things to see and do in Auckland!
We want you to enjoy the thrill of riding your electric bike and learning as much as possible about Auckland on your tour. Our electric bike tours are planned with frequent stops for photos, bathroom breaks, and to give you commentary on points of particular interest. We can also have a short coffee stop during the ride if you'd like (no visit to Auckland would be complete without sampling some of the world's best coffee!) The tour will end back at our vase, where we started. And given that it'll be lunchtime by then, we'll be happy to give you recommendations for great places to eat nearby.
And if you are keen to see more of the city in the afternoon, why not join us on The Inside Loop in the afternoon, to explore some of our coolest suburbs in more depth.
Depending on availability, you can also keep your electric bike for the rest of the afternoon, to explore more of our wonderful city, at an additional cost of $50.
If you've got any other questions about the tour, take a look at our FAQ page, or feel free to contact us.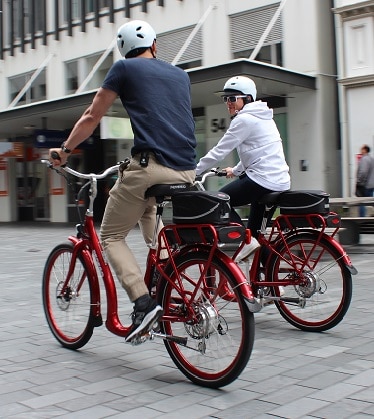 We cycle our amazing electric bikes around some of the most vibrant
neighbourhoods in Auckland and give you an insider's view.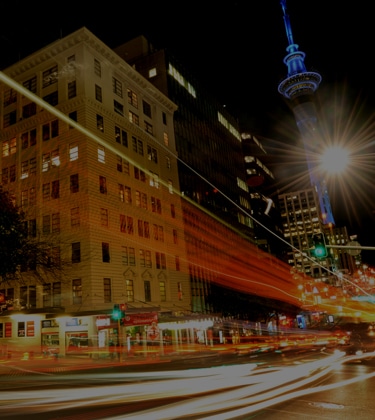 A unique experience in Auckland – we'll ride out at dusk and pick the best vantage points to see the city light up as the sun sets.click here