A unique experience in Auckland: we'll ride out at dusk and pick the best vantage points to see the city light up. And don't worry about riding in the evening – our bright bike lights will get you noticed!
Departs: Because the sun goes down at different times during the year, we've got a range of start times for this tour! So, November – 7.30pm, December to February – 8pm start, March – 7.15 pm start, April to October – 7pm start, all from our base at the Park Hyatt Auckland, 99 Halsey Street, Auckland CBD (we meet in the main lobby of the hotel).
Duration: 1.5 hours
Distance: around 12 km (between 1 to 1.25 hours' easy riding time – all electric powered!)
Price: NZ$115 per person. Minimum age 14 years old (teenagers of 14-15 years old must be accompanied by an adult).
Group size: A very select group, even smaller than our usual group size! Up to 4 riders, plus your friendly guide (although please contact us at info@powertothepedal.com if you would like to enquire about a larger group).
"This tour was remarkable. It was a sensational way to catch a glimpse of Auckland that we had not seen!"
ANTHONY, USA
"We felt like we saw all the city in all its glory. We felt completely taken care of and would totally recommend it."
MARCIA, USA
"If you're looking for a relaxed way to see the city sights, or even just an activity that is a bit different, this tour is definitely something to have on your list!"
CHRIS, AUSTRALIA
"A MUST DO for locals and visitors alike.This is, in my opinion, the best tour on offer in Auckland!"
EMMA, NEW ZEALAND
The light in Auckland can be amazing in the evening and we think it's a great time to ride the streets and join our fellow Aucklanders while they unwind after work. Our electric bikes are already very visible, but for this guided tour we make sure you have some additional lighting to really stand out as you are gliding along.
On this Auckland city tour with Power to the Pedal, we will lead you from our base and past the twinkling lights in the cool shopping district of Britomart. Then its along the waterfront, checking out some neon delights on Queens Wharf and the illuminated city skyline from the Viaduct  – photo opportunity anyone? Then we'll ride through Wynyard Quarter – one of Auckland's most exciting new developments – and round the Silo Park, to check out the amazing new colourful lights on the Harbour Bridge. Next, we'll cruise on our eBikes through Victoria Park and head towards the vibrant social hub that is the City Works Depot: home to some award-winning eating and drinking options. We'll then ride on one of the highlights of the tour – Te Ara I Whiti/The Lightpath. This pristine (and pink!) cycleway looks stunning when it is lit up at night. And finally, we'll ride down the awesome Grafton Gully cycleway on our way back to base, checking out the historic Grafton Bridge and the lights of the Port of Auckland sparkling in the background.
It's a unique experience that should certainly be added to the "things to see in Auckland" list!
Oh, and as well as being eye-catching, did we mention how much fun our electric bikes are? We love them! See more here.
And if you'd like to try a longer ride, to see even more of amazing Auckland, we recommend that you check out either The Classic (our morning eBike tour) or The Inside Loop (our afternoon eBike tour).
Sights and Neighbourhoods visited include:
Britomart, Quay Street, Queens Wharf, Viaduct, Wynyard Quarter, Silo Park, Victoria Park, City Works Depot, Te Ara I Whiti/Lightpath; Grafton Gully Cycleway
We'll meet you at our 
base
in the city centre, where we'll kit you out with your electric bike and your riding gear. We'll then have a short orientation with the bikes and have a practice ride nearby to make sure you are 100% comfortable before we set off. Then it's on with the tour! – which we believe is one of the most fun things to do in Auckland and a great experience.
All of our tours are led by our experienced guides who will bring the history and vibrancy of Auckland to life. Feel free to ask questions – we love to tell you about our city and explain about all the things to see and do in Auckland!
We want you to enjoy the thrill of riding your electric bike around Auckland as much as possible, but will also have several stops to discuss particular points of interest and let you take plenty photos in that beautiful evening light! The cycle tour will end back at our base.
If you've got any other questions about the tour, take a look at our FAQ page, or feel free to contact us.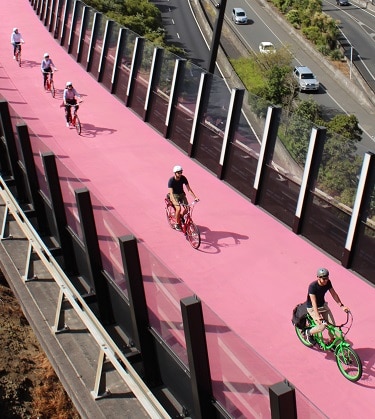 Our original and most popular city loop tour. See the best of Auckland by electric bike, without breaking a sweat!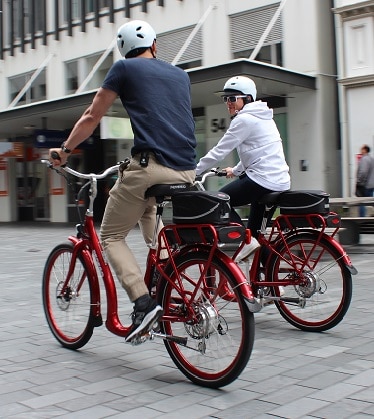 We cycle our amazing electric bikes around some of the most vibrant
neighbourhoods in Auckland and give you an insider's view.