We love to show the best of Auckland and its surroundings. If you are looking at options for:
Anniversary &
Honeymoon Tours
we can suggest some fantastic private guided tour options for you on our awesome electric bikes. We have capacity for up to 6 persons in each group (minimum age 16 years old), plus your friendly guide. All custom tours start from our centrally located base at the Park Hyatt Auckland, 99 Halsey Street, Auckland CBD (we meet inside The Pantry cafe at the hotel). Please contact us to discuss the options.
Here's just a few examples of some of the private guided tours we can do for you. The options are endless! And if you want to try one of our other scheduled Tours, but the timing doesn't quite work – just let us know – we'll be happy to discuss alternative timing.
Conquer the Volcanoes
Want to know the perfect way to ride up a volcano? – on one of our electric bikes! On this private guided tour, we'll take you to the summit of:
Mt Victoria (Takarunga) on the North Shore – we'll catch the ferry across from the city centre
One Tree Hill (Maungakieke)
Mt Eden (Maungawhau)
The Domain (Pukekawa)
You'll be the King of the Mount(ain)s and the views are unbeatable! It's a great way to get a feel for the geography and geology of the Auckland area. As we hop from volcano to volcano, we'll also be guiding you through some of the best parts of Auckland – providing you with that local insight that we're famous for. Duration – around 6 hours. Maximum of 6 persons. Pricing from $225 per person (based on a group of 6 – higher pricing will apply for smaller groups). Minimum age 14 years old (teenagers of 14-15 years old must be accompanied by an adult). Please contact us for more details.
Waiheke Day Trip (Sun, Surf, Vines)
Waiheke – only 35 minutes by ferry from the centre of Auckland, but a whole world away. Auckland's best (or worst!) kept secret – this beautiful island offers amazing options for wine, food, beautiful beaches and amazing views.
On this private guided tour, we will take you on a day trip to beautiful Waiheke. We'll take the electric bikes across on the ferry – which is a great experience in itself, as you power through the Hauraki Gulf, past one of Auckland's icons: Rangitoto.
We can design an itinerary to show you the best Waiheke has to offer. Options include:
Riding though the bustling 'capital' of the island, Oneroa – home to one of Auckland's best dining spots – the Oyster Inn
Winding through the neighbourhoods of Blackpool and Surfdale, to take in some traditional Kiwi baches (holiday homes)
Stopping for some of the best coffee on the island at the Annex in Ostend – a hidden gem!
Enjoying the native bush and beautiful views around Rocky Bay ('old-school' Waiheke and the best place on the island – but we're biased…!)
Checking out the amazing beach at Onetangi – perfect for a swim
Checking out the stunning views back to Auckland and out to the gulf islands on the road back from Palm Beach to Little Oneroa, then dropping by the Dragonfired food truck, for amazing pizza by the beach
This is just a small sample – there are so many options for things to do on Waiheke island! And if you want to visit any of the amazing Waiheke vineyards to buy some of their wine – your electric bike should be able to carry a bottle or two for you!
Duration – expect to do a full day. We would normally look at a 9am departure on the ferry from the city centre, and 5.30pm arrival back in Auckland. But we can look at other timing, depending on your preferred itinerary. Maximum group size 6 persons. Pricing from $245 per person, including return ferry ticket (based on a group of 6 – higher pricing will apply for smaller groups). Minimum age 14 years old (teenagers of 14-15 years old must be accompanied by an adult). Please contact us for more details.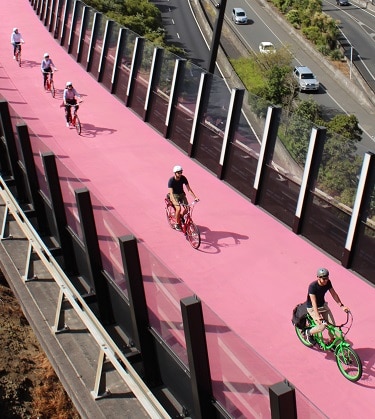 Our original and most popular city loop tour. See the best of Auckland by electric bike, without breaking a sweat!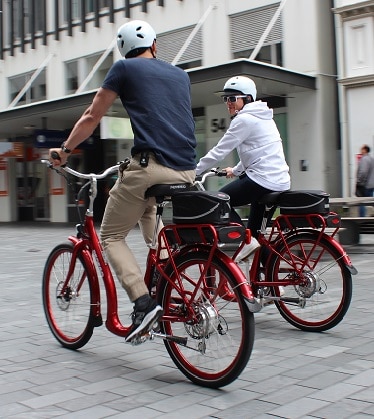 We cycle our amazing electric bikes around some of the most vibrant
neighbourhoods in Auckland and give you an insider's view.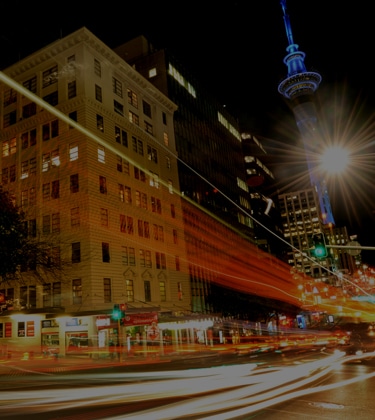 A unique experience in Auckland – we'll ride out at dusk and pick the best vantage points to see the city light up.
click here